A relatable board book series
Based on true events in the first year, the books are equally entertaining for both moms and babies.
Oops I Poops
Poops and more Poops! Read along as Mama tries her best to have a fun day, but she's constantly interrupted by an unexpected poop explosion! This funny and realistic read is perfect for both moms and babies.
Buy Now
Nighttime Party
Nighttime is here and Baby is getting ready for bed with a warm bottle of milk before she rests her eyes. Just when Mama thinks Baby is fast asleep, she wakes again...and again...for snuggles, milk, and hang time.
Buy Now
Where Did All the Pacifiers Go?
As a new Mama, losing a pacifier can be such a struggle! In her clever and real style, Katie Bolt tells a true story that almost every mom experiences: the wild goose chase to find missing pacifiers when you need them the most.
Buy Now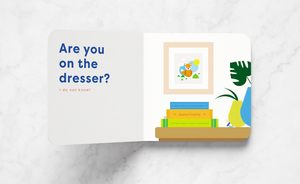 Swaddle Escape
Swaddle Escape is inspired by Katie Bolt's journey to figure out how to swaddle without fail. Mamas will laugh out loud at Baby's cleverly planned scheme to break free – "Hooray for Baby! Victory!"
Buy Now